Tag Archive for roswell
Great documentary! Recommended. . . . EDITOR
From youtube uploaded by UFOTVstudios on Sep 12, 2010
Did MJ12 exist?  5/31/02: DEATHBED CONFESSION of Top Secret Government Agent – UFO's, Aliens, Roswell, Eisenhower Briefing (Video)
Category:
UFO Enclosure
/ Tags:
cover-up
,
evidence
,
FREE Movie
,
MJ12
,
Not Alone
,
Presents
,
roswell
,
The Secret
,
UFO
,
UFOTV
,
We
Featured Image: Dwight D. Eisenhower photo portrait. SOURCE Wikipedia. (Public Domain).
Eisenhower threatened to take part of the Army and attack Area 51 if he didn't get some answers . . . from Deathbed Confession below.
From youtube uploaded by Patriot News Organization
Published on May 23, 2013
from Forbidden Knowledge 
Uploaded by PublicResourceOrg on Jan 7, 2010
"1994 ARC Identifier 2788876 / Local Identifier 341-ROSWELL-4. This WDTN-TV Channel 2 Dayton, Ohio video recording is an investigative look at the Roswell "incident." In it, narrator and producer Carl Day reported on stories of wreckage and alien bodies being shipped to Wright-Patterson Field, he interviewed Kevin Randle and Donald R. Schmitt, authors of "The Truth About the UFO Crash at Roswell," and conducted numerous interviews with Air Force personnel, a photoanalysis expert, and numerous others to attempt to determine if there had been a government "cover-up." Department of Defense. Department of the Air Force. Office of the Secretary. Office of the Administrative Assistant. Office of the Deputy for Security and Special Investigative Programs. Research Declassification Team. (1987 – ) Made possible by a donation from Mark Rosch," . . . Posted with video
Maybe someday someone will realize that the whole world is a "UFO hotspot" excluding  the no-flight-zone above Chuck Norris' Texas ranch. . . . EDITOR
from Discovery News
Some say an area in central California is a popular stopping place for aliens.
Wed Jul 11, 2012 09:45 AM ET
Content provided by Michelle Macaluso, FoxNews.com/SciTech
On July 8, 1947, a crash in Roswell, N.M. described by local papers as a "flying saucer" lit a fire in America: UFO fever. And today, just over 65 years later, some Central Californians believe their region remains a UFO hotspot, the bottom leg of a "UFO triangle" as mysterious as Bermuda's.
Jeffrey Gonzalez is one of such, the founder of Sanger Paranormal Society and a UFO-chaser for the past four years. He even runs a 24-hour UFO hotline: people call and he investigates claims of UFO sightings. . . . read Complete Report w links to good photos
Go Even DEEPER, Read My completely documented 4 part report of my year long investigation into the origin of unknown craft.  Using the material available from the first 50 years of modern unexplained flying machines in the skies of the world I found surprising information.
from Huffington Post
Posted: 07/08/2012 12:36 pm Updated: 07/08/2012 2:22 pm
Happy anniversary, Roswell, N.M. It was 65 years ago today that the Roswell Daily Record blasted an infamous headline claiming local military officials had captured a flying saucer on a nearby ranch. And now, a former CIA agent says it really happened.
"It was not a damn weather balloon — it was what it was billed when people first reported it," said Chase Brandon, a 35-year CIA veteran. "It was a craft that clearly did not come from this planet, it crashed and I don't doubt for a second that the use of the word 'remains' and 'cadavers' was exactly what people were talking about."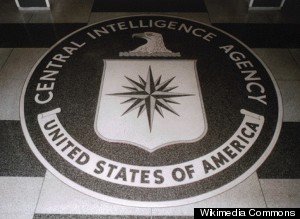 Brandon served as an undercover, covert operations officer in the agency's Clandestine Service for 25 years, where he was assigned missions in international terrorism, counterinsurgency, global narcotics trafficking and weapons smuggling. He spent his final 10 years of CIA service on the director's staff as the agency's first official liaison to the entertainment and publication industries. It was during this time, in the mid-1990s, that he walked into a special section of CIA headquarters in Langley, Va., called the Historical Intelligence Collection. . . . Read Complete Report
form Educating Humanity
by Kristen Peterson
Wed, May 16, 2012 (5:45 p.m.)
Well, this is interesting. There's an alien lying on a hospital bed and a larger-than-life wall-sized photo of Lonnie Hammargren dressed in medical scrubs behind it. The implication here is that Dr. Hammargren, former Lieutenant Governor and neurosurgeon, conducted alien autopsies. It's a little joke thrown in by the Atomic Testing Museum for its Area 51: Myth or Reality exhibit.
Naturally, a Department of Energy-mounted exhibit of its legendary desert laboratory northwest of Las Vegas is going to have fun with extra-terrestrial fascination. Given the intrigue of Area 51, it makes sense they'd tip a hat to little green men and flying saucers through references to UFO sightings throughout history, newspaper and radio clips of the 1947 crash in Roswell, New Mexico, and even a George Knapp room. . . . Read Complete Report
Area 51 | A Documentary – Hosted by Steven Williams